An American Havana Brown Cattery breeding true to the type of the classic Havana Brown
WELCOME TO OUR CATTERY

We are a small, quality breeder of the rare and unique Havana Brown cat. A breed that captured our hearts almost 15 years ago and never have we regretted our choice to commit to working with this fabulous breed.
You are likely already aware that this is a rare breed of cat and breeders around the world are few.  Because we must work hard on diversity and ensure health in our lines, we breed only a couple of litters a year.  This is the case with most all breeders of this unique breed. Sometimes breeding can be a logistical challenge when you do not have a large cattery so this requires to work well together, to know pedigrees, DNA test cats and stay current on what breeding cats are available around the worlds.  
Being a hobby breeder is a labor of love. The expense, time and devotion to the animals in our care, heartbreak when we must face loss and extensive amount of time we spend networking with other breeders, Vets, researchers, breed clubs, Exhibitions. learning history and pedigrees, as well as the wonderful families who share their homes with our fur kids, make this feel like so much more than a hobby. It is a love for a breed which has amazing and unique characteristics that are not often known or understood.
Since moving to Chicago area, we have been on a mission to get the breed back into the public eye so that everyone can see how amazing these cats are.  If you are homebound and need a companion to share your days, a Havana Brown will be certain to entertain you, share your daily experiences and snuggle in bed next to you. An active lifestyle? No problem!  I've never known a breed more comfortable with travel. They harness train in a snap and are always ready to go for a stroll, a ride around the neighborhood, a holiday by car, plane, train or sea! Their sense of adventure is only outdone by their attachment to their person. They want to be with the one they love, wherever that might be. If you are looking for a therapy pet or emotional support animal, you have found the right breed.
The Havana Brown is a very sensitive cat and is great at comforting an owner but this same sensitivity can cause them a bit of distress in an extremely active or stressful home. They too need a safe and secure place to unwind.  We have found that they do well with one or two respectful children, but do not always thrive with children in large groups. They integrate into a household with dogs quite well as long as the dogs are not a naturally nervous breed and introductions are done properly. Sometimes, I think that the bigger the dog, the more the Havana Brown likes them!
While not a hard and fast rule, male kittens seem to do better in families that are more active and females like to settle in and nest (an usually pick their favorite person to attach to).  When you get a kitten, if you are able to get a pair, you will find that they will be happier having both people to amuse and each other to run with and get lots of exercise.  With a single kitten, you must make extra effort to devote morning and evening play time if you do not want to be disturbed at night.
Now about about us....
We began working on the DNA diversity project in 2016 when we moved to Chicago area.  This was after spending a decade learning about initial breed development, history and feline genetics. Attending classes and seminars by some of the worlds foremost genetics experts and MOST IMPORTANT, consulting with the breeders who have been working with these amazing cats for 25, 30 and even 40 years.  We finally felt that we had been armed with enough knowledge to begin an outcross project that could infuse new genetic material into our gene pool without sacrificing the very special characteristics that our breed is know for. This, by no means, has been an easy task.  Four years later we are finally feeling like we have our feet under us again and are back to producing predominantly traditional Havana Brown cats that are excellent quality for both breeding and show. They have been DNA screened for all known genetic disorders and are genetically clean! Healthy and stunning....what more could you ask for?
Here is a bit of the backstory.
After working for 6 years in Europe, we relocated back home to the USA. I'm a mid-western girl, raised on a hobby farm and I try not to hold it against my husband that he is an east coast, private school, military bloke who knew nothing about breeding when we began this journey. Who could have anticipated where our adventure would take us!  In the upper midwest, we are both comfortable and plan to stay put! 
In 2010 ComposerCat cattery relocated to the Veneto region of Italy in conjunction with a job opportunity. We had no idea what we were in for but every day is a new adventure and this was no exception!  Prior to leaving for Europe, we were breeding and exhibiting our beautiful cats in the United States. We lived in New York and were frequently at shows up and down the East Coast. We did a lot more showing than breeding. We built relationships with the other breeders and learned a lot about the history of the breed. But mostly, we fell in love.... our home had become one punctuated by brown! There was no question that we would continue, even after we left the country (despite not having many language skills, we managed well).  The Grand Dame of Europe, Claire Rassat, took us under her wing and introduced us to the world of cat shows in Europe.  We found a wonderful breeding partner in her that we both loved and respected.  Soon there came more and before long, we had six five Havana Brown Breeders in Europe and two in Russia.

We had the pleasure of showing our cats in Europe and around the world. We have attended shows in Austria, Belgium, England, Finland, France, Holland, Germany, Italy, The Netherlands, Spain, Sweden, Slovenia & Switzerland. We exhibit primarily in the Cat Fanciers Association shows, but our cats have also been presented at shows of TICA, ACFA, GCCF, LOOF, FIFe and WCF ANFI.
As our kittens set off to St. Petersburg, Dubai, Denmark, England, Canada and so many more places around the world, we have built an amazing family.
It has been our pleasure to introduce this wonderful breed to many people around the world and give more cat lovers the opportunity to experience the beauty, affection and intelligence of the Havana Brown.

Our lines are all backed by National Winners, Regional Winners, Bests of Breed and Grand Champions. We have diverse pedigrees and healthy cats which are recognized as exceptional examples of the breed standard at shows throughout the world. The health and disposition of our cats are of foremost concern to us and that is reflected in the longevity of the lines and docile temperament of our cats and kittens.

We began our breeding program under the guidance of Dr. Karen Rogers, a well known and respected Havana Brown breeder and Veterinarian in the United States. We have also been fortunate enough to have benefited from the wisdom of other well known and respected Havana Brown breeders, with decades of breeding experience, who have many healthy offspring living with their loving families around the world. Our cats are from proven strong genetic lines with diversity to maintain health. 

We follow research by the WINN Feline Foundation, Morris Animal Foundation , Cornell Vet School, U.C. Davis, UW Wisconsin School of Vet Med and University of Illinois, Mississippi State and Kansas State Vet Schools in addition to University of Glasgow Vet school. We utilize their disease research and  best practices in the breeding, vaccination and healthcare of our cats. Sometimes this alone seems like a full time job!

We have an open cattery and potential kitten owners are always invited to come and visit with us and our cats/kittens, meet the parents and see the loving environment we provide for our cats in our small cattery. We make a point of meeting all potential owners before our kittens are placed in their homes. We  generally have only one or two litters each year and do not breed for profit. As anyone who has a small cattery and exhibits their cats can tell you, it is an expensive hobby with no financial gain. We breed because of our love and passion for the Havana Brown and with the hope that we are able to share the wonder of this exceptional breed with other families around the world who have the same appreciation for the art which is CAT.

If you would like to know more about the Havana Brown or would be interested in bringing one into your home, please contact us at:
LeAnn@ComposerCat.com or fill out the kitten questionnaire located on our Contact page. 
Follow COMPOSERCAT Havana Browns on Facebook, through our website, blog or join our mailing list.
Private email to LeAnnRupy@gmail.com.
You can also see many videos of our cats and kittens on YouTube on the ComposerCat channel.

Before I wrap this up, people often wonder why we decided to become HB breeders. Well, initially we just wanted to find one cat - the perfect breed that would be an ideal companion and get along well with our other cat and our large breed dog.  We purchased a neutered boy (Rachmaninov) and, after visiting a breeder at a cat show, decided to get a show quality kitten to try out the cat show thing.  Well, we loved showing so much, we started helping another breeder with showing her cats too. The passion people have for their cats is evident. What better way to spend a weekend than with others who share a common interest. We would share Saturday night meals and discuss our breeds, show techniques, arrange carpools for coming shows, get helpful hints on grooming or prepping the cat for a show..... Soon, the love of this awesome breed drove us to want to try out breeding. I guess it was bound to happen... but we thought. .. maybe just have one litter.  And after that one litter, well that is how it all started... Please enjoy our photo gallery and you can experience a bit our our journey too.

For ComposerCat Cattery, breeding began with Vivaldi...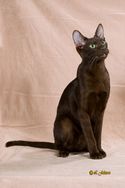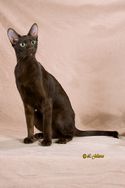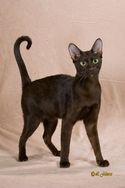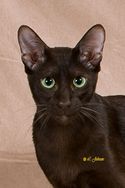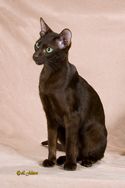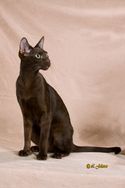 GC Havacats Vivaldi of ComposerCat, DM
2008 - CFA North Atlantic Region Best of Breed
2009 - CFA 3rd Best of Breed Internationally
2009 - CFA North Atlantic Region Best of Breed
2009 - Havana Brown Fanciers Best of Breed
2013 - CFA Distinguished Merit Award
2014 - Featured in June edition of Cat Fancy Magazine
Vivaldi is our foundation Queen and was our 4th Havana Brown to show, but the first breeding cat solely owned by us. She was bred by Karen & Lowell Rogers at Havacat Cattery and was a perfect cat to start our breeding program. She has since achieved numerous awards, including the title of Distinguished Merit -achieved by producing five Grand Champion offspring. She produced many beautiful offspring that have been shown and breed by breeders in both USA and Europe and she has GrandKits around the world. We are very proud of this girl and of all her accomplishments and are very thankful to all those who carry on her line.
Her Grand Champions, in order as shown below : Corelli (Cori), Giannini (Gianni), Rossini (Tank), Scarlatti (Indy) and Pachelbel (Belle)







Other 'GRAND' ACCOMPLISHMENTS for our cattery include:
CFA Region 1
GP Havacats Rachmaninov of ComposerCat
GC Havacats Kinnickkinnick, DM
GC Havacats Green Eyed Lady of ComposerCat
 
CFA Region 9 - Europe
GC Oberlin's H. Berlioz of ComposerCat
GC BW RW ComposerCats Corelli of Mokolea (thank you Diane for showing and loving our girl)
GC ComposerCats Scarlatti
GC ComposerCats Rossini
GC GP ComposerCats Giannini (Baby Grand)
GC ComposeCats Pachelbel (1 Show -Baby Grand) CFA's 3rd Best of Breed in 2014  Featured in ARGOS magazine
QGC RW ComposerCats Amadeus of Havana Breizh (the foundation Queen of Anne & Stephane Gateau)
GP ComposerCats Stravinsky of Phos Hilaron (loved and shown by Alicia Herman)
GP RW ComposerCats Shaporin of Kastra - Grand of Distinction (So proud of him, thanks Harry & Leone)
GP RW ComposerCats Kabalevsky (2 show Grand! -loved by Calvin and beautifully shown by uncle Olivier)
Back in the USA
CFA Region 6 - Midwest
GC RW PhosHilaron Oberon of ComposerCat
GC BW Xocol Zaya of ComposerCat 
GC RW BW Havacats Whiskey Blues of ComposerCat
GC Saphira Mme Butterfly of ComposerCat
GC Havalots Qi'Ra of ComposerCat
CH GP ComposerCats Mikado
CH RW ComposerCats Lady Day of 5Acre Farm
GC ComposerCats Tupac Shukar
CH RW Havacats Buttonwood Cay of ComposerCats 
GC RW Havacats Whiskey at Waikiki of ComposerCat
CH RW ComposerCats Miss Saigon of KaffeeKats
Vivaldi (Viv) and Green Eyed Lady (Lady), as well as our beautiful stud boy Berlioz have already gained their wings and we miss the every day. But so often I see them reappear in the kittens that arrive. They retired at middle age but they have left behind five generations of their offspring that bring joy to us and other families each day.
From now until fall of 2022, we will still be finishing our outcross program. Two or three litters to go ad we will then take a break for a couple of years.
In 2014 the Havana Brown Fanciers celebrated our 50th year anniversary since the Havana Brown was accepted for Championship status in CFA!!!
 
 
For Some History about the Brown Cats, I will refer you to an article written by a senior cat judge who himself and his mother both made a significant contribtion to our breeds heritage.
Below you will also find some documentation from the individuals who developed the breed in North America.
In the early days it was difficult because they couldn't just breed brown to brown… there just weren't enough brown cats, so they had to find other cats carrying brown genes to use in this breeding program (such as chocolate or seal point Siamese or black cats that carried points). Once they had produced brown kittens from these matings, they would breed back to their lines to try and intensify the genetics and eventually were able to produce litters that were mostly if not all brown and of consistent type. This was wonderful – exactly what they were hoping for. Now they would work on developing the 'type' of cat they wanted to create by culling out the undesirable features and using the cats with features that they preferred in their future breeding programs.
http://www.havanaandorientallilaccc.co.uk/history-of-the-breed.html
In America, the brown cats that were imported remained healthy with a few minor exceptions. They too were crossed to Siamese and a Russian Blue to increase the gene pool and but quickly bred back to brown to continue producing only solid brown cats. The American breeders liked the type of cat that had been imported and worked to keep those features consistent. Soon, there were enough brown cats to petition for acceptance as a breed in America.
In 1964 the cat known as the Havana Brown was accepted for Championship in CFA. The look was the look of the early imports and the distinct muzzle became a hallmark of the Havana Brown breed.
Over the last 50+ years, very little has changed in the American Havana Brown standard. We have continued to breed essentially the same cat for over 50 years. Viewing photos of the Havana 50 years ago (Elmtower Bronze Idol, the first Havana Brown, pictured below), 25 years ago and today, you will see very little difference in this breed.
(http://www.havanabrownbc.info/History_of_the_breed-3.htm).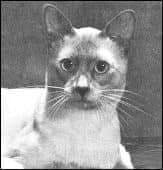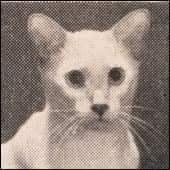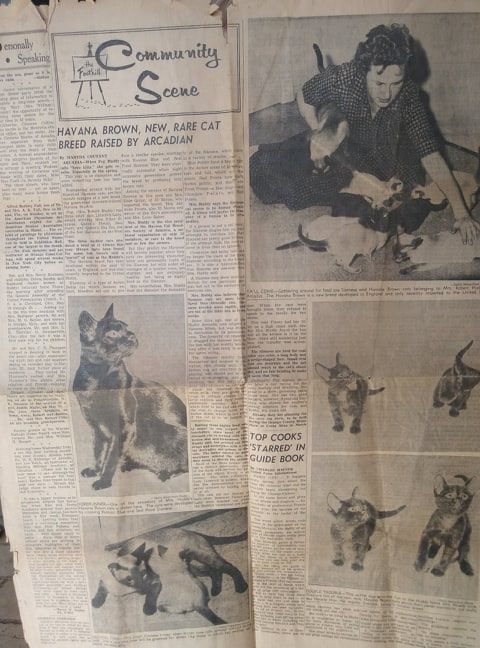 In England, the Oriental breed continued to evolve. They bred Oriental Browns, but also blues, cinamons, black, fawn… eventually every possible color was achieved and the carefully designed brown cat became lost in the evolving Oriental breed. True, some breeders still focused on breeding only brown or lilac Orientals but the type still changed. Over the last couple of decades the Oriental type, in both America and the UK, has become much more extreme with large flaring ears, a sharp triangular head, fine boning and a long, tubular body, bearing very little resemblance to the Havana Brown.
If you have not had your fill of HB history, continue to read on...
The Havana and Oriental Lilac

The Breed Standard for the Havana asks that the coat is 'rich warm chestnut brown'
which is neither dark nor cold toned. The nose leather, eye rims and paw pads are brown or pinkish-brown. There is no doubt that on the showbench there is a considerable range of colour in the Havana, and the majority fall within the range of acceptability, though there are some that are so dark they could almost be mistaken for black! The ideal coat colour in an adult has warmth and richness and is only sufficiently dark so that ghost markings are not immediately obvious.

The Oriental Lilac is the dilute cousin of the Havana; the coat colour is described as 'frosty grey with a distinct pinkish tone, giving an overall appearance of lilac'. It should not be too blue or too fawn in colour. The nose leather, eye rims, and paw pads should all be of a pinkish lilac colour.

Unfortunately many modern Oriental Lilacs are very cold and bluish in colour, lacking the soft pinkish hue that the standard requires. The correct lilac colour is very delicate and attractive. Of course it will show ghost markings to a greater or lesser degree, and this must be accepted.

Because so many Oriental Lilacs are rather dark or cold in colour they do cause confusion with the Oriental Caramel. A good lilac colour and a good caramel colour are distinctly different, but unfortunately where neither is of good colour the differences can be very slight.

Unlike the other Self Colours (excepting Red, Cream & Apricot) where the requirement is merely for the eyes to be 'green' the Breed Standard for the Havana & Foreign Lilac qualifies this and states that it should be 'Clear, bright vivid green'. There can be no sight more beautiful than a richly coloured Havana with clear 'grass green' eyes!
Development of the Breed
Article provided by Joyce Tudor Hughes
BREED HISTORY Havana

DEVELOPMENT
The Havana is surely a cat for the connoisseur, described once as "the peak of feline perfection", simply a jewel of a cat - but I am biased.  Various Standard of Points have described the cat as "..a beautifully balanced animal, with head and body carried on a slender neck and with a long lithe body supported on fine legs and feet with a slender whipped tail".  The coat colour should be a warm brown - ideally 'milk chocolate' but more often described as rich chestnut brown; the fur fine, close lying and glossy.  The eyes, a wonderful grassy green - sometimes difficult to achieve - oriental slanted and almond shaped.  Specific to the Havana, and once noted not easily forgotten, is the expressive, almost wistful look known to
aficionados of the breed as the 'Havana look'.  As intelligent and communicative as the Siamese, to which it is closely related, but quieter and,
dare I say it, less raucous.

The Havana is a man-made or man-designed cat and started life as a twinkle in the eye of Edit von Ullmann F.Z.S. (Roofspringer) dreaming by the fireside of breeding a glossy brown short-haired cat, Foreign in type, with the greenest of eyes.  At around the same time Mrs Armitage Hargreaves F.Z.S. (Laurentide) was considering breeding a cat with more stamina and a less highly strung disposition than the Siamese.  Working together Edit and Armitage began in 1951 to produce a self-coloured brown cat although breeding from different strains.

Edit had a knowledge of genetics and in order to transfer the chocolate dilution to a self-coloured black cat she mated a SH black female,
Maximilia Unterkatze born circa 1947 to a Chocolate Point Siamese, Shushard dob 1/8/1950, bred by Brian Stirling-Web - the progeny from the mating were, as expected, SH blacks - a male and a female.  Knowing that the recessive chocolate dilution would be present in both the black cats, together with the Siamese restriction factor, Edit used a sibling mating.  Unfortunately, the birth of kittens was premature and the litter died but not before it was noted that there was a brown kitten - the others being black and Siamese.  "Repeated matings of the pair of black cats, however, eventually produced first a self-chocolate male and later a female".(1)

Whilst Edit was involved in her breeding programme she heard of a Reading breeder, Mrs Isobel Munro-Smith (Elmtower) who had bred a
self-coloured brown male cat - (Elmtower Bronze Idol - the first recorded Havana).  A Seal-Point female, Tsui Chow, dob 17/10/1945, belonging to Mrs Munro-Smith had an illicit mating with a LH unregistered black (recorded as 'Pickles').  Tsui Chow was thought to have carried the 'chocolate' factor which passed on to the progeny.  A black female 'Susannah' from the litter was later mated to her Seal-Point half-brother, Tombee, dob 29/3/1948, (same dam, different sire!) also carrying the 'chocolate' factor.  Edit wrote of this: "The chances of obtaining a self-brown kitten were 1:8; a little less good than in my own strain of cats.  In the third, or fourth litter the brown kitten appeared and being unusual was kept and reared."(1) - enter Elmtower Bronze Idol, dob 14/5/1952!

Edit mated one of her females carrying the chocolate dilution with Elmtower Bronze Idol resulting in two of the early Roofspringer Havanas - one male, Roofspringer Muscatel and one female, Roofspringer Shandy - born 27/7/1953.  Muscatel became the sire (the dam being Roofspringer
Periwinkle, dob 30/4/1955 ) of Roofspringer Mahogany, F, dob 1/7/1956, who later became one of the first Havanas to be exported to the USA.

Meanwhile Armitage Hargreaves began by crossing Laurentide Ludo, dob 16/2/1948, a Seal Point female, probably carrying the chocolate factor, with a Russian Blue - Ch. Silverschoen Blue Peter, dob 19/11/1946 - "The cats used in the Havana breeding were then very much self-Siamese" (3), rather than the chunkier appearance of the Russian Blue.  This is a most interesting mating, from the same mating came the progeny behind some of the first Lilac Point Siamese, but that is another story.  The mating produced a large litter of SH black kittens carrying the blue dilution.  One of the black females, Laurentide Ephone Jet, dob 7/8/1948 was mated with a Chocolate Point Siamese, Briarry Sacharrin, dob 12/5/1950.  The litter included a self blue female of Foreign type, Laurentide Aretoo Pearl,  dob 25/7/1952 - registered as 16a - carrying the chocolate
dilution.

Aretoo  Pearl was mated on different occasions - once in 1953 with her sire Briarry Sacharrin and later during 1954 with Elmtower Bronze Idol.  The Havanas produced from these matings were later mated to each other, one of the progeny being Laurentide Brown Pilgrim M dob 12/4/1956, who accompanied Roofspringer Mahogany to the States.

The first breeders and prefixes who were prominent at that time:-

Edit von Ullmann - Roofspringer

Mrs Armitage Hargreaves - Laurentide

Mrs Elsie Fisher - Praha

Mrs Isabel Munro-Smith - Elmtower

Mrs Joan Judd - Crossways

Dr Nora Archer - Somerville

Miss Jury - Purring

Mrs Dorothy Clavier - Revel

Mrs Dora Clarke - Craigiehilloch

Miss G.H.P. McFarlane - Mahogany

Misses Davies & Walker - Lightfoot

Mrs Sybil Warren - Senlac

Miss E.R.Swyer - Elvyne

Mrs Allen Smith - Hergas

Mr T. Scott - Bluetower

Miss Beckett - Sunland

From an original chart by Edit von Ullmann:- (additional information in italics):

Praha
descended from Laurentide(later some Elmtower)
Roofspringer 
descended from Laurentide(Elmtower)
Crossways
descended from Laurentide/ Praha
Craigiehilloch
descended from Elmtower
Purring
descended from Roofspringer(Elmtower / Laurentide)
Revel
descended from Elmtower / Roofspringer (Laurentide)
Lightfoot
descended from Crossways(Praha / Laurentide)
Senlac
descended from Crossways
Bluetower
descended from Elmtower / Praha(Laurentide)
Elvyne
descended from Crossways / Bluetower (Elmtower)

Mrs Elsie Fisher (Praha) took a SH black kitten from the Laurentide Ephone Jet x Briarry Sacharrin mating, a female - Laurentide Arduo Prism, dob 25/7/1952; Arduo Prism was mated with a Chocolate Point Praha Mezzo Forte, dob 17/4/1952.  From this latter mating came Praha Gypka
dob 2/6/1953 a self-brown male Havana - descended from the Laurentide line; up until this point most of the Havanas were from the Elmtower
line.

Mrs Joan Judd (Crossways) was extremely interested in the new breed, but not happy with the type being produced from the Elmtower line.  Instead she mated her Seal Point female, Gentle Mist dob 3/5/1952 with Praha Gypka thus gaining her first Havana - Crossways Velvet Toy, F dob 7/3/1955.  The Crossways Havanas were to include the first Champion - Ch.Crossways Honeysuckle Rose, F dob 27/9/1958; another of Mrs Judd's Havanas - International Champion Crossways Heritor, M dob 18/2/1961 - went to Mrs M.C.de Haas-Zenln in Holland.  Int.Ch.Heritor appears
behind many Dutch Havana pedigrees.

"During 1954, these four breeders (Edit von Ullmann, Armitage Hargeaves, Isobel Munro-Smith and Elsie Fisher), together with Mrs Joan Judd - who had meanwhile mated her sealpoint Siamese Gentle Mist to Elsie Fisher's Praha Gypka in order to retain certain qualities in her strain; met to discuss future plans, to work together and exchange views and to keep strict records of all breeding lines, and, in due course to apply to the G.C.C.F. for breed recognition in the name HAVANA."(2)

It was at this point that the Havana Group was established, other breeders joining later.

The Havana was granted recognition by the GCCF, circa September 1958, the breed number being 29, the name to be Chestnut Brown Foreign. 
The Havana Group had been used to referring to the new breed as Havana's and were not best pleased when the name Chestnut Brown was given as the official Title for the self-brown cats.  However, there was no persuading the executive committee of GCCF and the name remained until 1972 when permission was granted to revert to the original Title - Havana.

Meanwhile in September 1959, the United Cat Federation of America had granted recognition to the name Havana and gave affiliation to the Havana Breeders Association.  The US Havana Browns descended from Roofspringer Mahogany and Laurentide Brown Pilgrim were not of Oriental type and Siamese were not usually used in breeding.  The US Oriental SH Chestnut is considered to be closer in type to the UK Havanas; the Oriental SHs gained full CFA recognition in May 1977.

It is now necessary to mention some problems with the early Chestnut Browns, during 1961 word came from US breeders that they were experiencing some problems with what were described as 'web feet' appearing in Havanas originating from lines imported from England.  The abnormality is expressed within a wide range, some cats could be passed for normal, others showing a more severe form.  The Chestnut Brown Group were extremely concerned and enlisted geneticists for advice, unfortunately not every breeder agreed to the lengthy period of test matings needed to establish which cats were carriers of the dominant gene producing abnormalities.  The more responsible breeders were not able to influence the dissident element and interest in the variety waned during the early sixties.  Happily, several breeders kept the breed going and re-kindled further interest towards the end of the decade.  Amongst breeders and prefixes maintaining the breed during the sixties were 
Mrs Sybil Warren - Senlac; Miss Swyer- Elvyne, Mrs P. Kirby - Crumberhill; Mrs St. Erme Cardew - Sterme; Mrs Beryl Stewart - Sweethope.

A renaissance of the breed occurred when a female self-brown kitten appeared in the breeding programme for the Foreign White cat.  Scintilla
  Copper Beech (29) born 29/4/1967 (bred by Miss P.Turner, owned by Mrs P.Wilding) was some eight generations away, on both the sire and dam's side from the Laurentide Ludo x Silvershoen Blue Peter mating mentioned earlier; Copper Beech also inherited the chocolate factor from both sides.  She was mated in 1968 with Champion Tijha Ares - a Lilac Point Siamese and later in 1969 and 1972 with Champion Winceby Imperial, another Lilac Point.  The Havanas descending from Copper Beech culminate in the significant Dandycat cats bred by Mrs P.Wilding; Mrs B.Stewart; Mrs M.Shaw and the Solitaire cats bred by Mrs A. Sayer, all of which are credited with improvements in the Havana type.

Can I draw any conclusions from all of this?  A small world, isn't it?  Lines descending from the first Havanas of the fifties are behind many, or most, of the present day cats.  Indeed, a test for the provenance of the modern Havana is - can you trace the antecedents back to Scintilla Copper
Beech herself and the Dandycat and Solitaire Havanas derived from Copper Beech; even further back behind Copper Beech is Armitage Hargreaves' first tentative Seal Point x Russian Blue cross.  Can you find any of the list of prefixes from the fifties and sixties in your lines?  The pedigree identifies the cat as a true Havana, which seems to be a useful point to end this brief early history of the breed.

Joyce Tudor-Hughes

The article was originally written for and published in 'Our Cats' No 934 (26 May to 8 June 2000.)